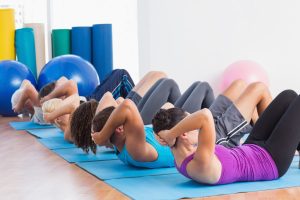 If you are looking for a challenging, effective safe workout on the weekends then this session is for you!
No matter your fitness level we will provide necessary modifications that will get you moving in a direction that will help to improve your fitness no matter where you are at!
Taught by certified personal trainers you can guarantee we know how to put together workouts that will inspire you and get you the results you desire.
Grab your girlfriends and come join us Saturday mornings at Blue Sky Fitness nestled in the middle St. Vital on St. Anne's  Rd. 
Details:
Start Date:
Time: 9:00 a.m.-10 a.m.
What to bring: Water bottle, yoga mat, lots of energy!
You can register as an add-on to your current monthly fee for only $49 a month more OR join for $59 a month just Bootcamp only!
Register NOW!