Here is a favorite workout of mine that I want to share with you.
If you are looking to take your fitness to a new level in a short amount of time while reaping the benefits of a higher post workout caloric burn than you've come to the right place!!
Every exercise is modifiable to your current fitness level.  For instance where it says jump squats, you could just stay with a regular squat.  Where it says burpee you could do a walk out burpee instead of jumping out to plank.  This is more challenging with the minimal rest periods so be sure to stop and rest if you need to and build up as your fitness level improves!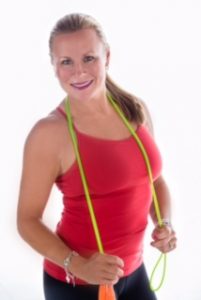 30 MINUTE WORKOUT:
5 MINUTE WARM UP- Full body moves like jumping jacks, jogging on spot, skipping
Execute each movement below for 30 seconds then add on the next exercise.  Always start back at 1 and then keep adding one more down the line always going back to the beginning before you tack on another exercise.  Keep layering until you perform 123456 and then you will work in reverse starting with 6!
A great app to download and use for timing is TABATA PRO … you just set up 30 second intervals with a 5 sec prepare time and a 5 sec rest time and you are good to go!
1
12
123
1234
12345
123456
Reverse 123456
OPTION #1
LOWER BODY-  SQUATS
UPPER BODY – TRICEP DIPS
POWER- HIGH KNEES
LOWER BODY- BURPEES
CORE- PLANK UP DOWNS
POWER- TOUCH DOWN JACKS
OPTION #2
LOWER BODY-  LUNGES
UPPER BODY – PUSH UPS
POWER- SKATER JUMPS
LOWER BODY- GLUTE BRIDGING
CORE- SIDE PLANK
POWER- JUMP SQUATS
Cool-down with some floor/mat stretches such as hamstrings, quads, chest, low back.
Please also be sure to check with your Doctor to ensure these exercises are right for YOU!
Enjoy!
Kathryn