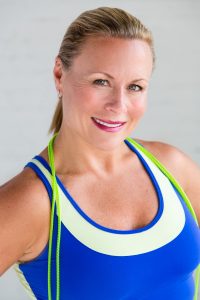 Meet Kathryn Sawatzky. I love helping my clients to be the best version of themselves possible.  As a Certified Trainer, Fitness Leader and ACE Health Coach I have the necessary tools to provide my clients with clear instruction and results driven workouts.
I've been in the fitness industry for over 25 years and I pride myself in creating a caring, community feel in every facility I've managed. My goal as owner of Blue Sky Fitness Studio is to create an atmosphere where everyone feels welcome, encouraged and supported in their fitness journey.
I love teaching classes, hanging at home with my kids and Cosmo the dog, going for runs and, of course, enjoying my absolute faves…dark chocolate and wine!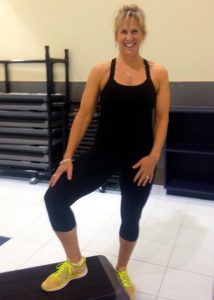 Meet Lisa Hill. I hold a degree in Physical Education/Kinesiology as well as many fitness certifications in the areas of step, strength/power training, spin classes, barre classes and fusion classes. I have been in the private fitness industry for over 25 years teaching a wide variety of classes around the city along with being a high school physical education teacher for over 30 years.
My latest passion is yoga but more along how it fits side by side with fitness/health and wellness. The approach taken is one of how yoga can benefit and enhance not only your workouts but your everyday life. I love to combine this with other workouts for the true cross training experience for the body.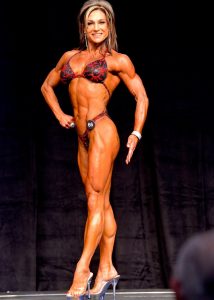 Meet Shelly Paton. I've been in the fitness industry for over 30 years as a certified Personal Trainer and group fitness leader. I'm an IFBB PRO in Fitness, three time Canadian Champion and represented Canada at the World Championships in Poland in 2012 placing 6th place. I have a passion for fitness and wanting my clients to achieve greatness.
I work with all levels of clients including older adults.  My specialty is teaching fitness classes and small group training. I pride myself on giving an effective and challenging workout while keep safety and technique as utmost importance. My many years of education at various conferences allows me to modify my classes for all levels and capabilities!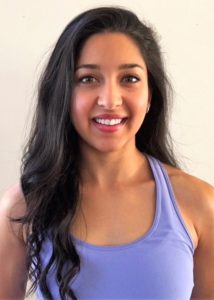 Meet Nikita Sarangal. Although I have an educational background in Microbiology, I developed a passion for health and fitness during my undergrad at the University of Manitoba. During my undergrad, I explored the scientific basis of health related topics in nutrition, human anatomy and physiology, and sport psychology.
I bring a purpose to all my classes and strive to improve my participants' fitness and functionality in everyday life. I am fascinated by the role that an active lifestyle and exercise can play in the management and prevention of chronic diseases that are prevalent in today's societies.
My current education objectives include being involved in research at the University of Manitoba, exploring the links between nutrition, exercise and health so that I can bring this scientific approach to fitness to my classes.
Meet Jill Ma. My journey in fitness has definitely been that….a journey.  My story has many chapters from bikini competitor to overweight working mom to overcoming the battle of weight gain and maintaining pre-pregnancy physique. I have had a passion for fitness for years but can attribute my renewed passion to Kathryn and her guidance.
I first met Kathryn upon returning to work after having my second child. That was 7 years ago. With her guidance I was able to get back to my pre pregnancy weight with an itch to help those who like me struggled with the battle of the bulge. In that time frame, I became a certified Personal Trainer, Group Fitness Trainer, Sport Specific Trainer and Nutrition and Wellness Specialist. Since then I have taught a variety of classes ranging from Bootcamp, Circuit training, HITT, Mommy & Me Bootcamp, Fusion Barre, Yoga and Kids Yoga.
I love to inspire and motivate those around me. In class you will work up a sweat but you will also leave with a sense of lightness as we will work hard, have fun, share smiles and laughter.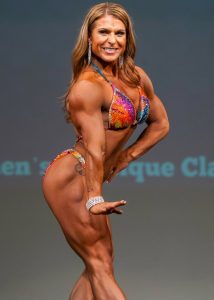 Meet Denise Fann. I began my fitness journey in 2007 as a certified Resistance Trainer and Group Fitness Leader. I competed in Women's Fitness, Figure and Physique Division in Winnipeg, Manitoba. This year (2017) I won the overall Ms. Manitoba Title.
I feel fortunate to have been able to transform my passion for physique and fitness into a career. The biggest motivation for me teaching classes is ensuring there's a high level of energy, all the while continually pushing people to do their best!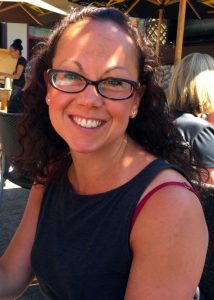 Meet Rachel Smith. I have worked in the fitness industry for 9 amazing years. After having my second child I was able to turn my love of fitness into a career.  I am certified in group fitness, resistance training and spin.
I have taught a variety of classes from HiLo, step, spin, Bootcamp, HIIT and many many more. I love being in this industry!  I get to motivate people,help them achieve their goals all the while aiding in building their confidence in themselves and their bodies.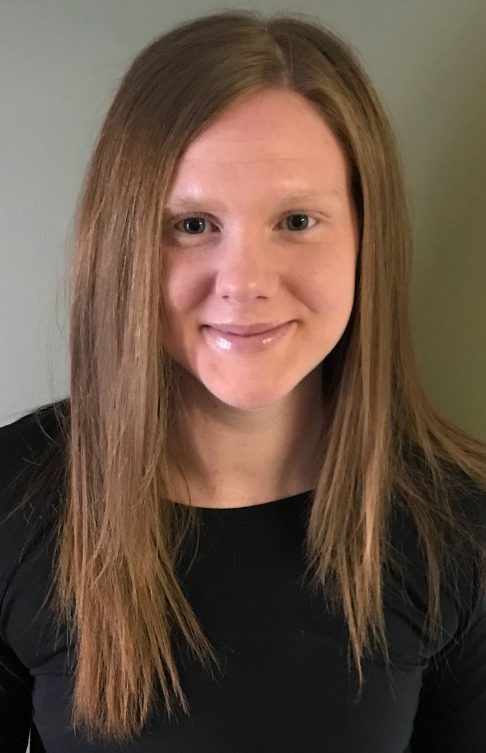 Meet Amber Biebrick. My passion for physical education, health and fitness has led me to pursue a career in this industry. I have a Physical Education/Kinesiology degree and am currently working towards becoming a Physical Education teacher. I am a NCCP certified coach. This certification allows me develop athletes and promote physical health and wellness by using Canada's Sport for Life Long-Term Athlete Development strategies.
I have been playing competitive Ringette my entire life. Through Ringette, I have had the opportunity to travel all across Canada competing in several National Championships and the 2011 Canada Winter Games. Currently I am playing in the National Ringette League! Growing up playing competitive sport sparked my passion towards physical health and fitness, specifically resistance training!
My goal as a fitness instructor and leader is to help people achieve their goals. I want to create a workout environment that is positive, motivational and most importantly FUN!! The biggest motivation for me is seeing people achieve their goals and through my classes I will encourage and motivate participants to push themselves to reach their full potential (Because I know you can do it!!).
Meet Lisa Huys. Lisa's journey with yoga has always been a never ending road of knowledge. Dealing with depression and anxiety since the age of 14, yoga has been something she could always fall back on to. She will bring all that she's learned to all her students, and hopes they benefit form this practice as much as she has over the years. Along with her 200H certification; her up beat, passionate, non-judgemental personality and massive heart shines in her teaching. Her overall life intention as an instructor is to guide her students to the knowledge of yoga ON and OFF the mat. "The pose begins when you want to get out of it" – Baron Baptiste