30 Day Fit & Lean Jump Start
A LEANER, HEALTHIER you is just 30-Days away!
Let me introduce myself, my name is Kathryn Sawatzky and I'm a certified health coach and personal trainer who helps women get back to feeling great.
I put this challenge together to make it easily accessible for women to get back on track with their health and fitness goals. I know how difficult it can be to try to make health and lifestyle changes on your own.  Now you'll be plugged into a community of people that share your same goals.
Are you:
Tired of yo-yo diets that don't work?
Feeling drained of your energy?
Finding it hard to stick to an exercise routine?
Feeling frustrated and discouraged about reaching your goals?
Would you like to FINALLY:
Lose those stubborn extra pounds?
Boost your energy and self-esteem?
Learn how to implement REAL, LASTING change WITHOUT diets or deprivation?
Have an incredible community of support to help motivate you and keep you on track?
Then you've come to the right place!
Let's face it; making changes with our diet and lifestyle isn't easy. Oftentimes, it's because we aren't sure WHAT to do for a LONG-TERM strategy for SUCCESS. We know that diets don't work long term, and rapid weight loss often leads to rapid weight GAIN.

This Jump Start program is different
There are NO diets and NO deprivation and No tricks, pills, potions or gimmicks!
It's time to get REAL!
You'll learn SIMPLE, step-by-step strategies that you can EASILY implement to help you
Get Fit, Lose Weight, Eat Healthy, Boost your Energy and Get Your Smokin' Hot Mojo Back!
You'll ALSO get the most incredible, easy-to-prepare recipes PLUS a community of support, every step of the way. And since the Jump Start program is online, you can participate no matter where you live!
Here's how it works. During the 30 Day online Jump Start, we'll focus on one key strategy each week:
Week 1 – Why choosing the quality of your calories matters for weight loss.
Week 2 – Finding the right exercise for YOU – hint: you don't have to spend hours at the gym.
Week 3 – Eating to fuel your body – what 1 thing you may be doing unknowingly, to sabotage your efforts.
Week 4 – How to plan for LONG-TERM success – simple, effective tips to save you TIME, CALORIES and MONEY!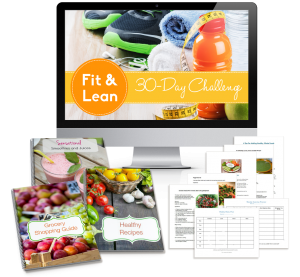 Once you sign up, you'll receive:
One email each week with that week's challenge strategy
Delicious, nutritious recipes for breakfast, lunch, dinner and side dishes
A Grocery Shopping Guide to help you easily navigate healthy food choices
A menu planner and an exercise planner
BONUS – "Sensational Smoothies and Juices" recipe guide
Access to the online Challenge Group for support during the 30 days
SUPPORT, MOTIVATION and INSPIRATION for 30 days
4 simple, but effective strategies to get you on the road to reaching your goals with no quick-fix diet tricks or gimmicks, because we know those don't work! Like I said, it's time to get REAL – and SIMPLE.
This is an online program so you can participate no matter where you live and we encourage you to invite your friends to join you because extra support is awesome!
This program is a $400.00 value but can be yours for just $149.00 $97.00!
---
You will be automatically added to our mailing list for this program 
---