Strive for Progress not Perfection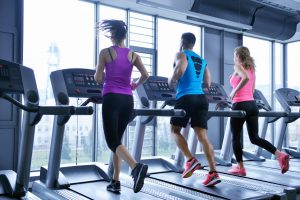 You're at the gym and you glance over at the person beside you who is running at 7.5 mph while you are barely managing a brisk walk at 3 mph without feeling like you want to die. Sound Familiar?
Just remember that the runner beside you had to start somewhere as well! He or she had to work up to being able to run from a walk.
The best advice I give my clients is to strive for PROGRESS, not perfection. Here are some great ways you can kick your own butt and breakthrough your current fitness plateau.
1. Skip using Machines. Free weights are your best bang for your buck so to speak. You will burn more calories and recruit more stabilizing muscles to aid in the movement. Bodyweight exercises are great too for this reason!
2. Interval Training. Toggling between a recovery period and a period of high intensity will help you to up your pace as you are challenging your cardio to improve and reach new levels allowing your tissues to use more oxygen so you don't fatigue as quickly. For example, try a 4 minute walk with a 30 sec or 1 minute jog interspersed OR if you are already jogging, try a light jog for 1 minute followed by a 30 sec sprint. In no time your speed will begin to increase!
3. Make it Social. Let your friends know via facebook, twitter or instagram your latest achievements in fitness! You will be surprised at the support you get to push you towards meeting your next goal!

Bottom line is give yourself a break if you miss a couple of days of fitness or you eat that second piece of cake. You are never going to have the perfect physique or the perfect diet. As long as you are making progress and increasing your fitness level on a regular basis you are doing better than most!