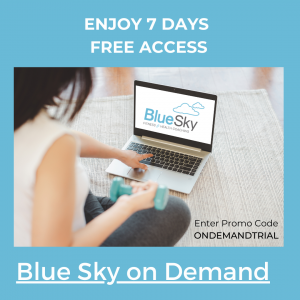 We know you will be hooked just as soon as you try our amazing workouts!  That's why we'd like to give you FREE 7 days of access to our entire library of classes and meal plans.
Our effective 45 minute workouts will get you the results you desire in an efficient, safe and effective way.  Our Trainers are all certified professionals and offer modifications to exercises during the workouts.
Simply click here to get started.
Here is a sampling of some of our awesome effective and results driven class formats that you'll get with your subscription:
12 Minute Quickies!
When you're short on time or you just want to target upper body, lower body, cardio or core we've got you covered.
Sculpt
45 minutes of full body resistance training to tone and sculpt your muscles.
Cardio Weights & Core
This workout has you performing a minute of cardio followed by a minute of strength work and finally a minute of core! We move quickly through to keep your heart pumping and metabolism burning.  This class is 45 minutes.
Shred
This is a tough one!  Prepare to be challenged with 8 minutes of:
Cardio
Hiit
Power
Muscular Endurance
You will be left sweaty and feeling accomplished all within 45 minutes!
90-60-30
The name is literally the amount of seconds you spend performing a cardiovascular exercise with 30 seconds of muscle work interspersed in between.  Another tough one for sure!
Tabata 20
This popular and super efficient 45 minute Hiit workout has you working hard for 20 seconds and then a quick 10 second break.  We do 8 Tabatas total each 4 minutes in duration where we perform 2 exercises in each Tabata.
Yoga Stretch
Get relaxed and feeling fantastic after you spend an hour on the mat opening your joints and stretching your entire body.  A great class to do at least once a week to keep mobile as you age.
Roll Rejuvenate Recover
Spend an hour massaging your trigger points with a lacrosse or tennis ball and feel your tension disappear!  Yoga blocks and straps are often used as well.
Guts Butts & Guns
Just as the title says!  This class spends 15 minutes on each of your core (gut) glutes (butt) and arms (guns)!
Trainer's Choice
This one is entirely up to the trainer to decide!
Metabolic Mixer
This format takes 7 exercises and adds one on every 30 seconds as we work from exercise number 1 all the way through 7 and then reverse the order and go back up to 1! A real metabolic booster!
EMOMS
Every minute on the minute! During "odd" minutes you perform a grouping of exercises and during "even" minutes a different grouping.
SeniorFit
It is so critical to keep fit and healthy as you age!  These classes are low impact and offer many modifications for our aging population.